IKUTO 2020 Declaration and SDGs
IKUTO opens a branch office in Bangkok, Thailand in February 2020 as its overseas base to focus on renewable energy projects.
We will work on solving the social issues of developing countries in our commitment to reaching the"SDGs" for "climate change" and "poverty alleviation." The initiative of IKUTO is to supply renewable energy generated by solar power, biomass etc. to areas of no or insufficient electricity supply via "microgrids." This initiative will not only solve the issue of insufficient power supply but create employment in the power industry and thereby improve the poverty and hygiene problems, as well as activate the local communities.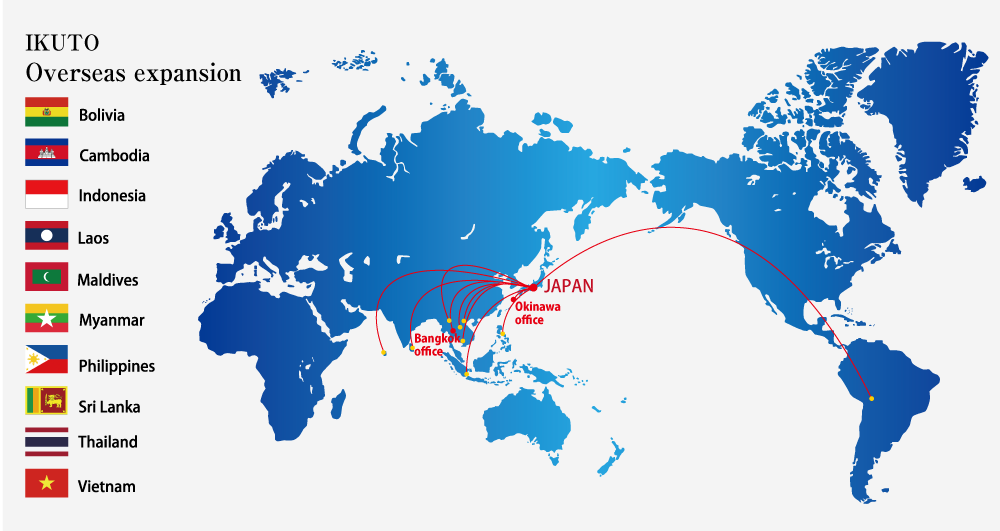 What IKUTO
business stands for

In order to realize SDGs, it is indispensable for corporations to participate in creating employment opportunities and innovations. In the coming years, corporations' efforts will be evaluated using the benchmark of the SDGs. Therefore, IKUTO has begun taking initiatives for contributing to stable power supply and economic development through communication in the global frameworks such as ESG and SDGs. IKUTO's core technology is able to combine small- and medium-scale power sources to create a large-scale power supply, as well as sustainable value. In other words, it is possible to introduce a power supply system according to the level of economic development. The issues of garbage heaps and waste plastics have resulted from economic growth and population increase. Converting such waste materials into useful energy can break the vicious circle of environmental destruction. Moreover, digital currencies and environmental added value enable the introduction of next-generation power infrastructure.
Core technology supporting primary business of IKUTO, "Platform for Supporting ERAB
(Energy Resource Aggregation Business)"
The central part of the IKUTO 2020 Declaration is our core technology, "Platform for Supporting Next-Generation ERAB."
We will consolidate our rich experience in the field of renewable energy technologies and advance IoT technology, including block chain or AI functions, in order to optimally control the power demand-supply balance. The power trade will be upgraded from paper money to digital transactions, while the installation of microgrids enables the local energy production/consumption, promoting renewable energy penetration independent of large-scale power generation.